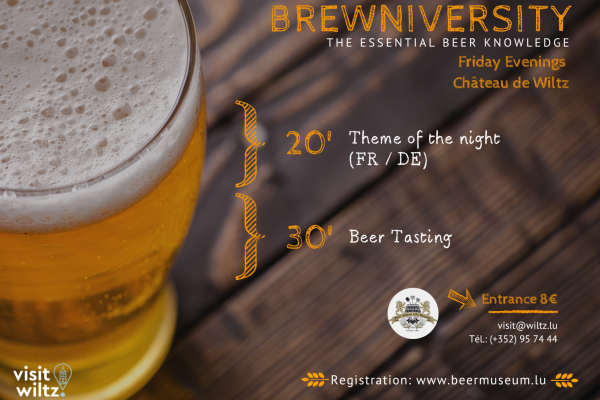 Who invented beer? What does IPA stand for? If those are questions that you ask yourself, then these afer work sessions are made for you! Within the setting of the national beer museum, you will get the most essential beer knowledge by our two brewmasters, followed by a beer tasting session
Musée National d'Art Brassicole
Microbrasserie
Workshop
Durée
0 Heure
Informations importantes

Durée 1 heure

DE Bitte beachten Sie, dass während der Veranstaltung Fotos und Filme gemacht werden können. Diese Bilder können digital oder in gedruckter Form veröffentlicht werden, um die Veranstaltung zu dokumentieren.

FR Pendant cet événement, veuillez noter que des photos et des vidéos pourraient être prises. Ces dernières pourraient être publiées sous forme électronique ou imprimée afin d'illustrer l'événement notre évenement.

ENG Please note that pictures and videos might be taken during this event. These pictures and videos might be published digitally or in print version to showcase the event.